HOME PAGE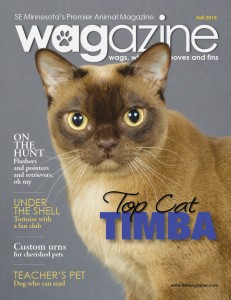 From the Editor, Fall 2014
With pets, life seems to be in constant motion. If we're not taking them places, they're taking us outside every few hours to potty and play. Or they're walking across our keyboards for attention. Or demanding that we feed them, as their internal clocks never lie.
Change of Seasons: When the season changes over to fall, our pet-related activities change. Our thoughts (and our kids) return to school, and the Wagazine is excited to feature some dogs who are also returning to school and to the public library to assist with elementary reading (see pages 16 and 18).
Seasons of Life: As hunters dust off their camouflage, their canine hunting companions can sense the change in the air with palpable anticipation. Our "On the Hunt" story on page 13 discusses the three types of hunting dogs and showcases a hunter and his partner in the field, Deus.
Top Cat: In Minnesota, there are more cats (1.3 million) than dogs (900,000), according to the American Veterinary Medical Association. One of those Minnesota cats lives in Rochester, but he's no ordinary cat. At age 2, Timba is a retired show cat, having earned the title of the Cat Fanciers Association (CFA) 2013–2014 Sixth Best Cat in Premiership. Read about his exciting career on p. 20.
Yes, we in southeast Minnesota are busy with our amazing animals. Whether you're reading, hunting, showing, playing or lounging with your pets, keep sharing your stories with us.